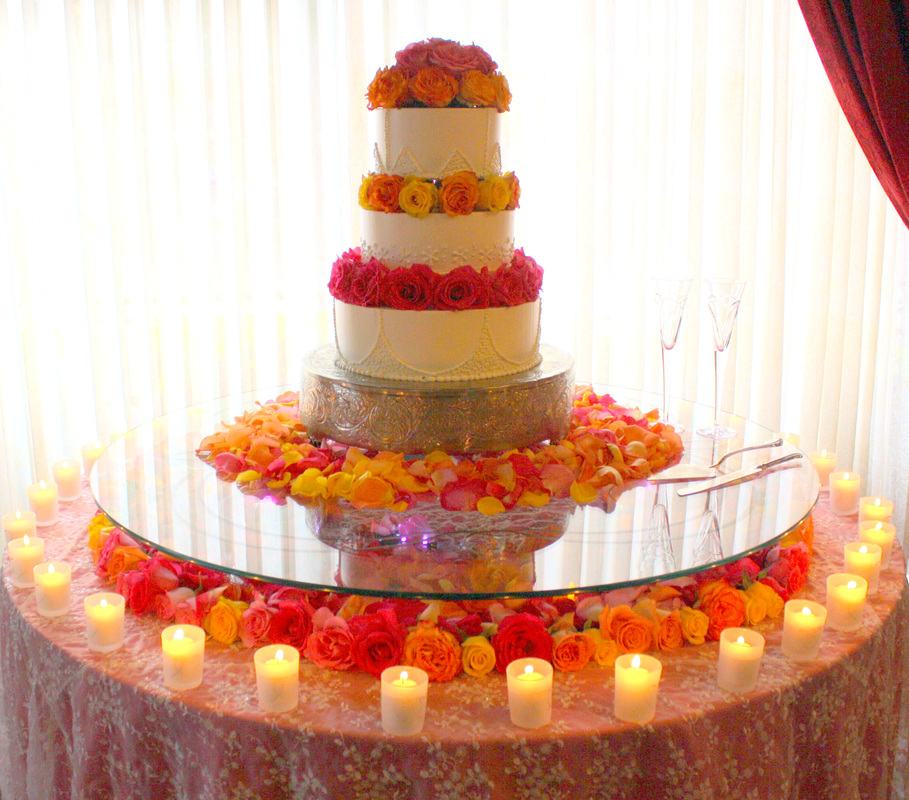 Oh so many things to think about as you plan your wedding day and celebration!

A time honored tradition, to some of your guests, the wedding cake is THE best part of the celebration! We do love to see that beautiful sweet creation, and of course the cutting of the cake is captured in photography for years to come. Given the importance of the cake and the moment, please give some thought to showcasing your cake to its best!

Here are a few tips and suggestions from an event decor master:

1. Find a beautiful spot with full consideration of the background. A special spot just meant for your cake -- like a beautiful coordinating papered wall. Your cake cutting photos will be great!

2. Make sure the evening sun isn't streaming in a window where the cake will be placed. Your fondant will melt!

3. Elevate your cake to a position of grandeur! A riser has long been used to elevate wedding cakes, but also consider a more modern approach. We like to use an elevated glass which gives your cake added height and gives us an opportunity to tuck beautiful blooms beneath.

4. Pay special attention to the linen for your cake table. Step it up a notch and really make your cake table a focal element.

5. Don't make your cake compete for attention with other items on the table that seem haphazardly added....and last but not least...

6. Share your first bite of cake as husband and wife in a loving way -- it's should be a symbolic (and delicious!) testament that sets the tone for your new lives together.